Hi, my name is Stone Evans. I'm the developer of the Plug-In Profit Site work-at-home business system.
I've setup this website to help people find accurate and useful information about starting and succeeding with an online business. I started my own home business after years of working in the restaurant industry.
I was a young father at that time, and I was struggling financially so I started researching which led me to learn about affiliate marketing. After years of trial and error, I figured out how to build a successful home business online and have since then been able to create many successful home business income streams.
Start a Home Business Today!
Working from home and making money online are the new normal. Home Business Newsletter shares the latest strategies that are working for real people today.
Sign up to be notified when new Home Business Newsletter issues are available:
Browse our recent issues below and learn how to make money online using the latest strategies and opportunities that are working for people today. You can have your own successful home business. Use the information and inspiration you gain from our free newsletter to start a home-based income stream today.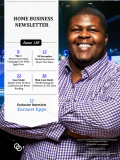 The 3 Money Generating Campaigns You Need Right Now, 99 December Marketing Ideas to Boost Your Sales, Case Study: Simple Trick To More Comments and Better Ranking, Mini-Case Study: 90,000 Instagram Followers in 365 Days …and more!